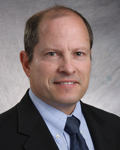 Ted Murphy launched his career in immigration law in 1994. While working as a sole practitioner he developed an expertise in handling detained and juvenile immigration matters before entering federal service in 1997. After serving more than a decade with U.S. Immigration and Customs Enforcement (ICE) and the former INS (Immigration and Naturalization Service), Mr. Murphy re-entered private practice in November 2007. He has handled countless notable matters in the Immigration and Federal Courts and is a frequent lecturer on immigration issues.
Mr. Murphy opened Murphy Law Firm in 2008 with a focus solely on the practice of immigration law. Mr. Murphy has extensive experience handling cases before the Immigration Court, the Board of Immigration Appeals, and the Circuit Courts. He is also admitted to the U.S. Supreme Court. The firm represents numerous clients both in removal proceedings and before U.S. Citizenship and Immigration Services.
As one of the government's most experienced attorneys, Mr. Murphy represented the Agency in all matters before the Immigration Courts and Board of Immigration Appeals. He handled many types of criminal and national security cases as well as fraud and employer sanction cases. Having filed hundreds of appeals for the ICE Agency, he enjoyed a success rate of over 95% in those appeals. In 2003, Mr. Murphy was appointed as a Special Assistant U.S. Attorney. He assisted in the investigation and criminal prosecution of a large-scale, multi-state immigration fraud ring from January 2003 until August 2004.
In academia, Mr. Murphy served as an Adjunct Professor of Law at Temple University's Beasley School of Law, where he taught both basic and advanced Immigration Law as well as International Organizations. Prior to his career in law, he served in the U.S. Army with various units including the 82nd Airborne Division. Early on, he worked for three years as a construction and land surveyor with a civil engineering firm in Chester County, PA.
Mr. Murphy received his undergraduate degree at Georgetown University (B.A., 1983) and his Law Degree (J.D., 1994) and Master of Laws (International Law) (LL.M., 1997) from Temple University. He is a member of several professional organizations including: American Immigration Lawyers Association (AILA); American Bar Association (ABA); Pennsylvania Bar Association (PBA); Chester County Bar Association (CCBA).
Mr. Murphy has been admitted to practice law before the following courts: Pennsylvania Supreme Court; United States Supreme Court; United States  Circuit Court of Appeals for the 1st, 3rd, 4th, 5th, 6th, 9th, 10, and 11th Circuits; United States District Court – Eastern District of Pennsylvania; and the United States District Court – Middle District of Pennsylvania.